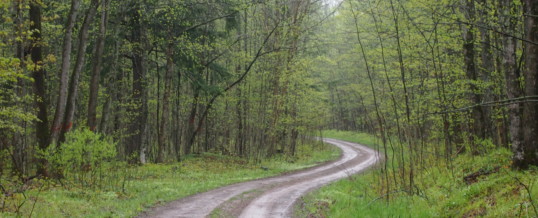 Russ Mills enjoys walking his forested land whenever he has the chance. His 180 acres offers many opportunities throughout the year for him and his family: hunting in the fall, cross-country skiing in the winter, mushrooming in the spring and berry picking in the summer. He and his family also benefit from the wood products that come from this land, including firewood and the occasional timber harvest. Mr. Mills also continues to plant trees on the property that will someday be enjoyed by his children and grandchildren…or will they?
Mr. Mills is one of more than 195,000 family landowners in Michigan who own at least 10 acres of forest. Most own their land for similar reasons: to enjoy nature and a wide range of recreational opportunities. Although many consider this land as a part of their family legacy, they may not have shared this special attachment with their kids. When the time comes for the forest land to pass on to the next generation, they may be faced with a variety of challenges, from unexpected tax burdens to a general lack of understanding about what their parents' desires were for the land. Many times, this lack of succession planning leads to parcelization or outright sale of this land.
The Grand Traverse Conservation District is hosting a workshop designed to help families begin talking about, and planning for, ownership succession of their forest land. "Family Forest Ownership Succession in Michigan: Keeping Forests in the Family" is based on a highly-acclaimed program designed by Oregon State University, consisting of multimedia presentations and practical, interactive planning exercises. The workshop will also offer tools and tips on how to start discussing this difficult subject with her or his family members. Resource professionals will also offer general advice on estate planning.
The workshop will be offered on Saturday, September 16th from 9:00am until 4:00pm. The registration fee of $65 covers the cost of a workbook, handouts and lunch. Families are encouraged to attend together: additional family members are only $15 per person. Registration information is available through the District Forester, Kama Ross, at 231-256-9783 or kama.ross@macd.org by Monday, September 11th . For more information, visit their website: http://natureiscalling.org/event/ties-to-the-land-a-family-forest-ownership-succession-workshop/
What will be the future of your forest legacy?
Share