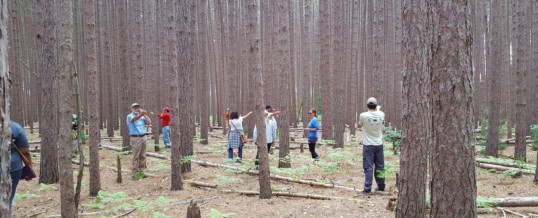 Are you a K-12 teacher, resource professional or other educator that wants to learn about and share knowledge about Michigan's forests and how they're managed?
Michigan is rich with an extensive and diverse forest resource. Forest products and services are essential to human survival and healthy lifestyles. How do forests develop and change? How are we managing this valuable resource today? The Michigan Forest Association, in partnership with Michigan State University Extension, is hosting a week-long (Monday-Friday) retreat-style workshop that provides teachers and other educators with field-based education on the benefits of sustainable forest management. Participants will gain a basic understanding of forest management by reviewing basic biology/ecology and seeing it applied in actual management activities.
This interesting and fun-filled week contains a combination of classroom, field tour, and hands-on activities. Participants will finish the week with ready-made activities that they can share with both youth and adult audiences back in their own classrooms!
The "Sustainable Forest Management Workshop for Teachers" will be held at the Ralph A. MacMullan Conference Center in Roscommon, MI from Monday, June 19th until Friday, June 23rd. Thanks to generous sponsorships, the cost for this workshop—including lodging, meals and materials—is only $100! For more information on this event, contact Georgia Peterson (517-353-9435 or petersog@msu.edu) or Bill Botti (517-663-3423 or bottiw1@juno.com). It's easy to register online at https://mfateacherworkshop2017.eventbrite.com . To learn more about MFA, explore their website at http://michiganforests.org/ .
Share