22-26 June 2015 • 
Ralph A. MacMullen (RAM) Center near Grayling •

Cost:  $100 to participants (non-refundable)

3 SB CEUs from Michigan State University (pending)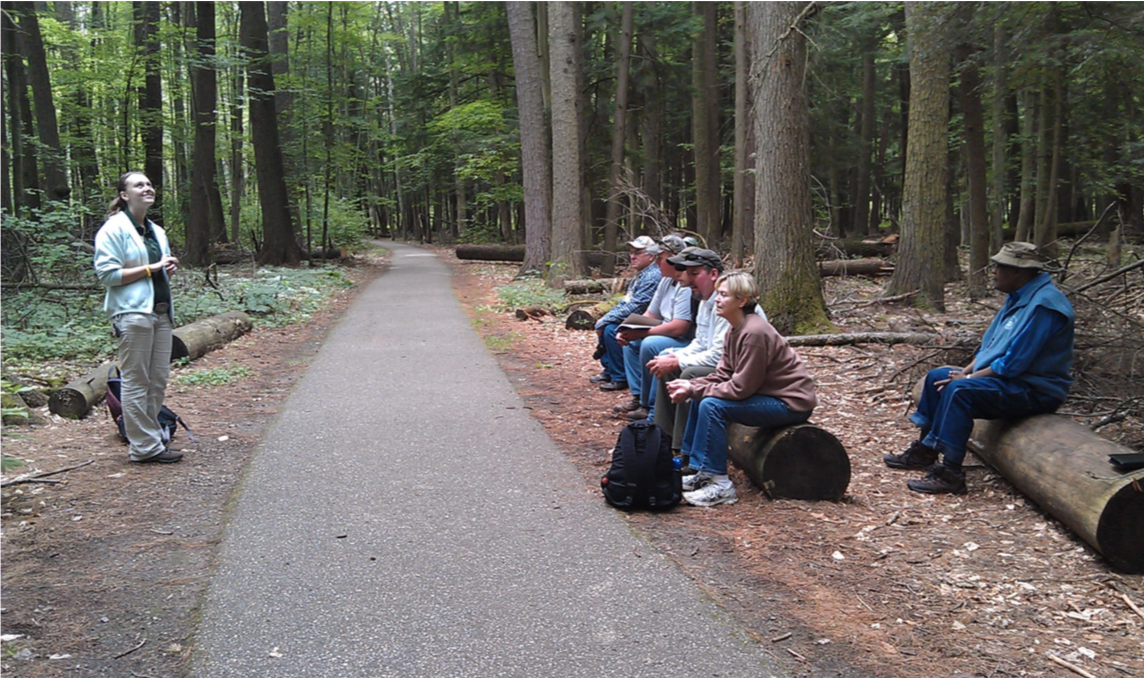 Timber harvest and forest management lead to a richer and more diverse provision of forest values, from finances to environmental services and habitat enhancement.  Our Forest industry is a driver of forest health.  This workshop will provide teachers with field-based training, including basic biology/ecology, visits to an active timber sale and area forest product mills, and much more.
The Michigan Forest Association recognizes the invaluable role teachers play in helping society to understand important issues, including natural resource consumption, use, and conservation.  That's why the organization raises about $600 per teacher to defray the cost.  Past participants have very much enjoyed these workshops and found them valuable.
Field attire is required, including provision for rainy weather.  Mill tours require long pants and closed shoes.  Prepare for mosquitoes!
Lodging and Dining
Participants lodge at the RAM Center, typically two per room, with common bathrooms.  Meals are served at the RAM Center main lodge.  The RAM Center lies on the north shore of Higgins Lake, next to Higgins Lake State Park.
Typical Schedule
While the final schedule varies from year to year, the following topics might be expected. 
Michigan forest history.
Tree identification and physiology.
Visits to Hartwick Pines, historic plantations, Weyerhaeuser, AJD sawmill.
Visit to an active timber sale, managed forests, and a wildlife management area.
Exercises in forest inventory and orienteering.
Daily discussions about issues and events.

Michigan Forest Association (MFA)
The MFA is a group of forest owners, foresters, educators, and other people who are interested in promoting the wise management and use of our forests.  One of the important activities of the MFA is providing sound information on forests and forest management to teachers.  Workshops such as this help equip teacher with a basic understanding of forestry and will give them the confidence necessary to teach forest-related units at all grade levels.  
For additional information contact:
Bill Botti, 517-663-3423, miforest@acd.net
MFA Teacher Workshop Topics
Each year, the specific agenda varies somewhat, depending upon available opportunities.  Below is a partial list of possible activities, topics, tours, and other events.  Teachers stay at the DNR Ralph A. MacMullen Conference Center, near Grayling, on the north shore of Higgins Lake.
Overview of Michigan Forestry
Tree Identification
How a Tree Works
Forest management systems and silviculture
Forest History:  glaciers to European "discovery"
Higgins L. Nursery / discuss nursery practice (first forest nursery in Michigan 1903)
Hartwick Pines forest resources
Forest recreation
Historic Beal and Bosom Field plantations
Forest research
Forests managed, wild, wilderness, and benign neglect
Forest inventory – trees count!
Michigan Land Survey, what is a "forty" anyway?
Map & compass
Active logging site
Forest industry mill tours
Visit forests variously managed
Conflict in forest management
Daily review and discussion of events
Recommended Website URLs for Teachers
Michigan Forests Forever:  http://mff.dsisd.net
U.P. Tree ID:  http://uptreeid.com
Instructors
Many foresters and other natural resource professionals participate in these teacher workshops.  However, the main instructors are Bill Botti, Georgia Peterson, and Bill Cook.
Bill Botti is the executive director of the MFA.  He is a retired DNR silviculturist with 327 years of experience and has worked in Michigan since statehood.
Georgia Peterson and Bill Cook are experienced MSU Extension foresters, each with over 15 years with MSUE.  Georgia works from the MSU campus and has specialties in community development and social aspects of forests and natural resources.  Bill is located near Escanaba and is also a wildlife biologist.  He has close ties with many forest-related communities.
Past Sponsors
The MFA seeks financial sponsors to help defray the cost to teachers for these Teacher Workshops.  These are groups and individuals that understand the importance of teachers and education and the role they play in a better informed public.  Each Teacher Workshop costs between $650 and $800 per teacher.  Financial sponsorships bring down the teacher cost to about $100.  Additionally, foresters and other natural resource professionals, and their employers, donate time so that teachers can hear and learn from people involved with on-the-ground management of forests and the manufacturing of forest products.
AJD Sawmill
American Forest Foundation
Clinton Trail Tree Farm, Inc.
Detroit Hoo Hoo Club
Elenz Forest Products
Bruce Holbrook
Irv McFarland
Michigan Arbor Day Alliance
Michigan Association of Timbermen
Michigan Forest Foundation
Michigan Society of American Foresters
            Lower Michigan Chapter
            Upper Peninsula Chapter
Michigan State University
Plum Creek
Gordon & Carol Terry
Weyerhaeuser
Share